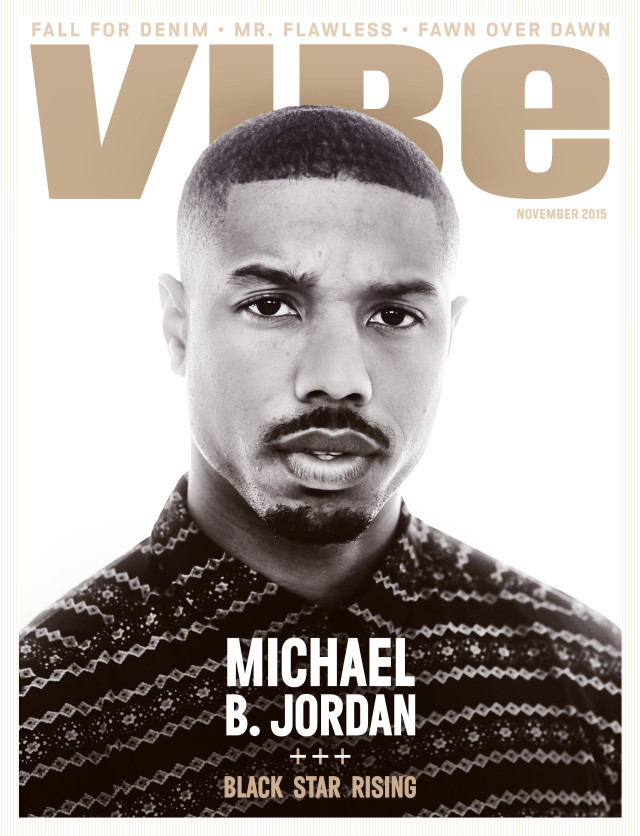 Michael B Jordan is Hollywood's leading man and with his new film "Creed" on the way to box offices, his stock is sure to continue to rise. Along with a few other covers, MBJ has just snagged the November cover and spread for 'Vibe' and we've got the hot snaps for you.
During his sit down with Vibe he revealed that he filmed all his own fight scenes for 'Creed', talks being a black man in Hollywood,
and even revealed that he was slated to play Dr. Dre in the mega box office smash 'Straight Outta Compton' but had to pass on it. Get into the excerpts and snaps below.
On not using stunt doubles during fight scenes in 'Creed'
"I did everything on this film which was a challenge," Jordan says. "I'm super competitive. If I could do it, why not?"
On Passing on the role of Dr. Dre in "Straight Outta Compton" due to obligations on "Fantastic Four"
"Me and Dr. Dre met a couple of times," he says. "We spoke about it, but ultimately it didn't work out that way. It was some mutual interest for a moment, and it didn't develop into anything for it to work out."
On not getting acknowledged or recognized for his roles
"There's no other film besides Fruitvale that was a film that I got a lot of respect from. Hopefully Creed will be good and people will really respond to it, but it's not for me to say it's my breaking out," he says. "I'll let other people speculate on that."
On his social media fans, trolls and comments
"I don't read all of [the comments], but every once in a while if I post a picture or somebody either screenshots something and sends it to me like, 'You need to read this,'" Jordan says with a wide grin. "It's pretty funny to hear them go back and forth on the comments."
On his controversial comments on women and the color spectrum of the roles he selects in GQ's October 2015 issue
"That's something I had control over and it was like, 'Okay, this is what I meant.' I'm sorry that I left room for error that could ever be misunderstood or taken out of context. That's on me. I just want to set the record straight."
"It read the wrong way. I have a huge respect for women. My mother, my sister…are two of the most important people in my life. I think it was more or less the… it was taken out of context. That was the biggest thing, taken out of context. That piece is its piece and it's in the past and it's over with. That's whatever, but moving forward I'll do a better job with giving a better depiction of who I am. People that know me know me. It's always a fine balance or I guess I'm learning the balance between giving too much and not. There's a balance of certain people out there who have done a really great job of navigating professional and personal life in the limelight and kudos to them. It's not easy. I'm a normal guy, I'm a regular guy, I try to be anyway but I say with success and certain things that people…they look at you as if you're not allowed to be as normal or as human as you want to be. I think that's the biggest thing I'm coming to terms with is understanding that. At the end of the day I just want to do great work that makes people think and feel something and the progression. I want progress."
You can check out the full cover story HERE.