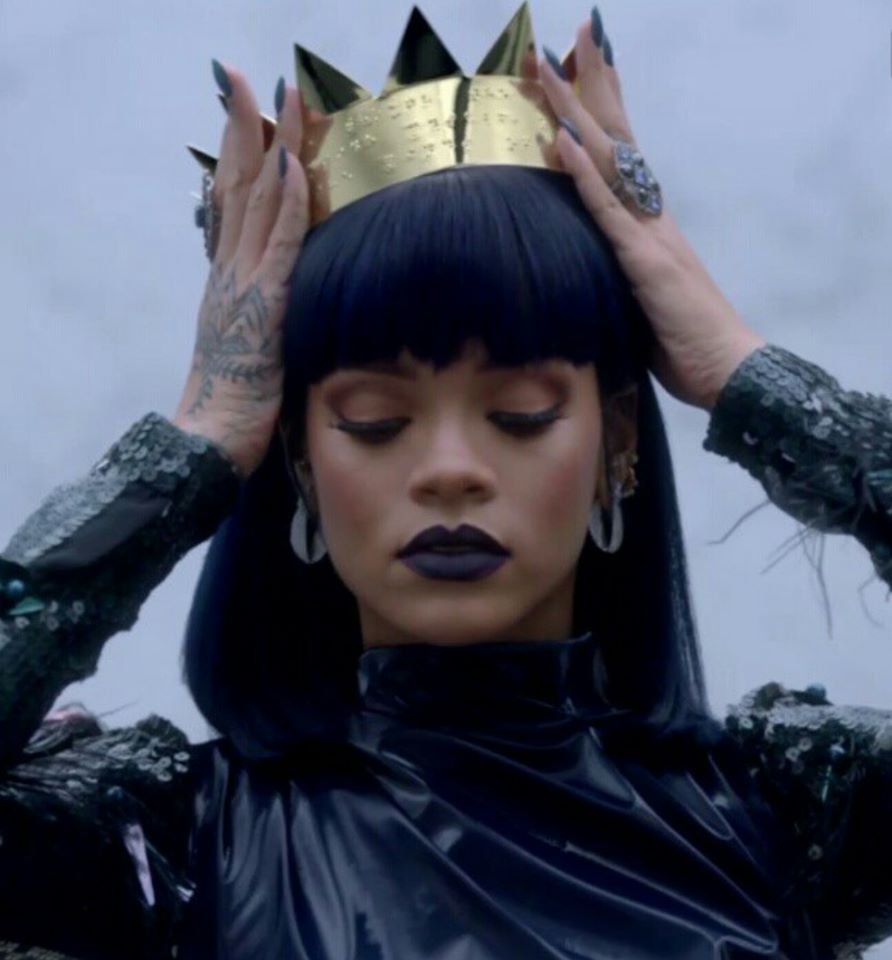 That Rihanna reign just won't let up!
Rihanna may not have taken home any Grammy's at the 59th annual show about a week ago, but don't cry for her! She is racking up on those chart stats and just added a new record to her belt.
Via Billboard:
As previously reported, Rihanna rumbles 13-8 on the Billboard Hot 100 (dated March 4) with "Love on the Brain," marking her milestone 30th top 10. Dating to the chart's Aug. 4, 1958, inception, only Madonna, with 38, and The Beatles, with 34, boast more.

Rihanna breaks a tie for third place with Michael Jackson, who's tallied 29 top 10s, as a soloist.

Notably, Rihanna sports the second-fastest accumulation of 30 Hot 100 top 10s (from an act's first-ever week in the region to the first week in the tier with its 30th). Having first hit the top 10 with "Pon De Replay" on the July 16, 2005-dated chart, she needed 10 years, seven months and two weeks to tally 30 top 10s. Only The Beatles hit the landmark more quickly, from "I Want to Hold Your Hand" to "Something," over a span of just five years, nine months and two weeks (Jan. 25, 1964-Nov. 8, 1969).

While she's the leader for the most Hot 100 top 10s, Madonna took 12 years, eight months and two weeks from her first top 10, "Borderline," to her 30th, "Don't Cry for Me Argentina" (June 16, 1984-March 1, 1997; thus, with the latest Hot 100 dated March 4, 2017, we last celebrated an act reaching 30 top 10 hits 20 years ago to the week).

Here's a recap of Rihanna's 30 Hot 100 top 10s (with 25 in a lead role).

Rihanna's 30 Billboard Hot 100 Top 10s

Title, Peak Pos. Peak Date
"Pon De Replay," No. 2, 7/30/2005
"SOS," No. 1 (three weeks), 5/13/2006
"Unfaithful," No. 6, 7/22/2006
"Break It Off" (with Sean Paul), No. 9, 3/17/2007

"Umbrella" (feat. Jay Z), No. 1 (seven weeks), 6/9/2007
"Hate That I Love You" (feat. Ne-Yo), No. 7, 12/22/2007
"Don't Stop the Music," No. 3, 2/16/2008
"Take a Bow," No. 1 (one week), 5/24/2008
"Disturbia," No. 1 (two weeks), 8/23/2008
"Live Your Life" (T.I. feat. Rihanna), No. 1 (six weeks), 10/18/2008
"Run This Town" (with Jay Z & Kanye West), No. 2, 10/3/2009
"Russian Roulette," No. 9, 11/21/2009
"Hard" (feat. Jeezy), No. 8, 1/30/2010
"Rude Boy," No. 1 (five weeks), 3/27/2010
"Love the Way You Lie" (Eminem feat. Rihanna), No. 1 (seven weeks), 7/31/2010
"Only Girl (In the World)," No. 1 (one week), 12/4/2010

"What's My Name?," (feat. Drake), No. 1 (one week), 11/20/2010
"S&M" (feat. Britney Spears), No. 1 (one week), 4/30/2011
"Cheers (Drink to That)," No. 7, 10/8/2011
"We Found Love" (feat. Calvin Harris), No. 1 (10 weeks), 11/12/2011
"Take Care" (Drake feat. Rihanna), No. 7, 3/24/2012
"Where Have You Been," No. 5, 7/7/2012
"Diamonds," No. 1 (three weeks), 12/1/2012
"Stay" (feat. Mikky Ekko), No. 3, 3/2/2013
"The Monster" (Eminem feat. Rihanna), No. 1 (four weeks), 12/21/2013
"FourFiveSeconds" (with Kanye West & Paul McCartney), No. 4, 2/28/2015
"Work" (feat. Drake), No. 1 (nine weeks), 3/5/2016
"Needed Me," No. 7, 7/2/2016

"This Is What You Came For" (Calvin Harris feat. Rihanna), No. 3, 8/6/2016
"Love on the Brain," No. 8 (to date), 3/4/2017
Congrats Riri!