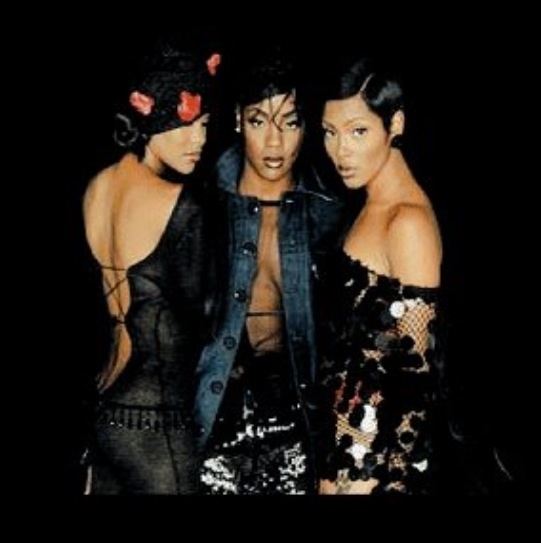 Remember 90's  R&B girl group Total? Fans have not heard much from the former Bad Boy Records trio since the release of their gold selling second album in 1999, but now the ladies have reunited. Members Kima Raynor and Pamela Long performed together for a Valentine's Day show in London that featured other 90's acts including Changing Faces, Tony! Toni! Tone!, En Vogue, Blackstreet and Mint Condition. 
Pam announced back in November that the group would be reuniting to perform and also record new music but member Keisha Spivey-Epps (now married to actor Mike Epps) would not be joining the ladies.
Kima and Pam hit up a few radio stations while in London to promote their reunion show and discussed whether Diddy is as bad as he is made out to be, them having offers on the table to do reality TV, and how they feel about social media in today's age. Peep some of the performance clips and interview highlights below: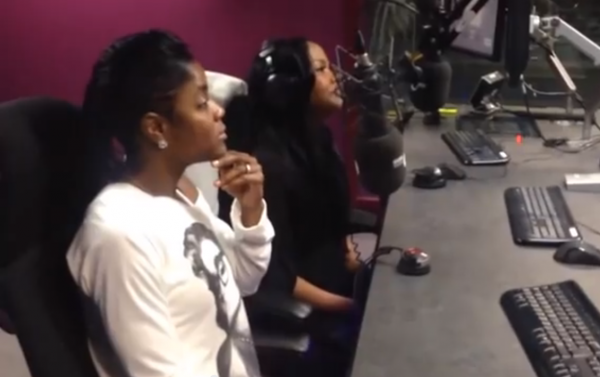 Kima on the music of today
I think music now — no disrespect to any artists out there because there's a lot of artist that I like — but I think it lacks originality. I don't think they put a lot into what they are doing. Like when we recorded, and we did our album, we put everything into it. We weren't rushing to put anything out. We made sure we could follow up with hits. We didn't want to put out one hit, and then not have anything else to put out. So I just think the work ethic is a little different. I think people are just rushing to throw stuff out there and not really putting that artistry behind their project like a lot of the 90s artists did. We wanted longevity and our music is still rocking.
Kima on if Diddy is as bad as people make him out to be:
No!  I always tell everybody that I think that we gave Puffy such a hard time, that he was tarnished [after us]. Everybody asks us that question about the [Making The Band contestants] walking to Junior's. I'm like, why didn't they catch a cab? We would've been looking at Puffy like you done bumped your head (It's not going down)! It's not that much of a contract in the world.
On if they are considering reality TV:
Kima: We're definitely considering it.
Pam: [We've had offers!] A lot of them; pretty much.
Kima: Reality TV to me is just like, no matter how positive [you try to be] …..Faith [Evans] is a friend of mine and I know she tried to keep that show in a positive aspect. It's like no matter how positive you try to be, it went left. I don't want to be like that on TV so I don't know, but we're considering it.
On their relationship status
Kima: I'm married. There are six kids. Pam is a newlywed.
Pam: September 20th of last year. Married the man of my dreams so I'm grateful. No babies yet. Soon but not too quick because we got things to do right now. Of course Keisha is married to Omar Epps. She's happily married and has three babies.
On social media
Kima:  Keisha called me one day last year around March and she was like, 'Kima, You need to get on Twitter because of the fans are asking about you.' So that was my first time on Twitter last year. I'm not a big talker or texter. I feel like Twitter will benefit us now in the future promoting what Total is doing but outside of that it really doesn't.
Pam: I'm a talker. I'm the complete opposite. I'm  a talker so I love to interact with people in general. I hit everybody back. I've always loved the aspect; it makes me look at myself  if they took the time to get at me, let me take the time to get back at them.
Kima: The one thing social media made me realize was how much people really love Total. After all these years to still know we have a fan base like that. It really put things in a different perspective.  Social media,  is good for that. I think it's good to get out there and mingle with your fans and just market yourself.
On knowing that they still have fans after all of these years
Pam: I'm sitting here trying to keep my composure. If anybody didn't know, I'm a real cry baby. Just like at the end of the day, I'm grateful. I give God praise for it because honestly you've had a run in your life and you've seen yourself go from here and you've had an opportunity to continue to stay consistent but for whatever reasons you had your things within yourself. I say within myself that caused me to dwindle but to have the opportunity to be back in a place that I love to be in and to be received by people, one that were fans and two, new fans, to me that is one of the most blessings that I can't even put into words but I'm grateful.
On the difference between UK fans and USA fans
Pam: You get the love but the appreciation of music I would say is different in the UK. Just being here people enjoy music. When we're at home, everybody feels like they can do what you do. So it's kind of just like, 'Oh, you sing? So can I. Oh, you produce? So can I,' instead of everybody playing their lane saying I appreciate you for doing  what you do.  That's the situation there but the love at home, we definitely get the love. It's a great thing  but it's just the appreciation here is different.
Are you checking for the Total reunion??