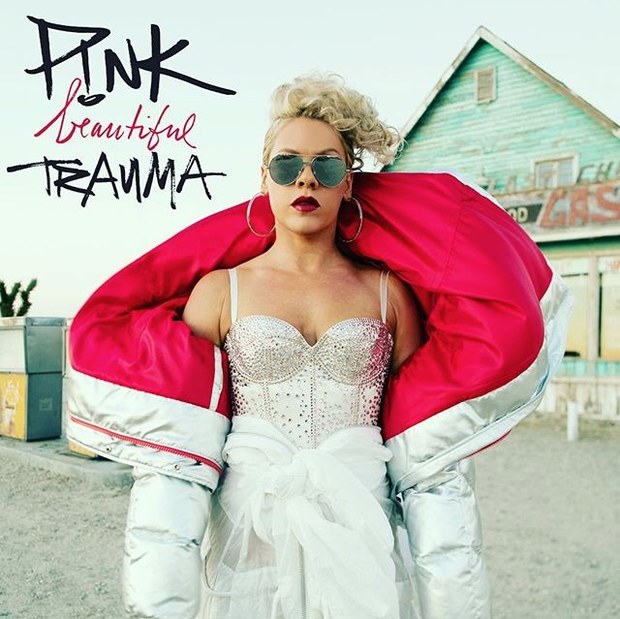 P!nk's new album 'Beautiful Trauma' arrived last week and instantly the sales went through the roof, with estimates climbing higher and higher as the week went on, but now the final sales total has arrived and the outspoken performer has sold more than initially estimated according to Billboard.
As expected, P!nk claims her second No. 1 album on the Billboard 200 chart with Beautiful Trauma, which starts atop the list with 2017's largest week for an album by a woman and the fourth-biggest week among all acts. It launches with a larger-than-expected 408,000 equivalent album units earned in the week ending Oct. 19, according to Nielsen Music. Of that sum, 384,000 were in traditional album sales — the best sales week of the year among all acts.

Beautiful Trauma is the pop singer-songwriter's second No. 1 album, following 2012's The Truth About Love (her last solo studio effort), which started atop the list with 280,000 copies sold (before the chart transitioned to a consumption-ranked list in late 2014). In total, Beautiful is P!nk's seventh top 10 effort.

Among all albums in 2017, in terms of weekly units earned, Beautiful Trauma trails only the debuts of Kendrick Lamar's DAMN. (603,000; chart dated May 6), Drake's More Life (505,000; April 8) and Ed Sheeran's ÷ (Divide) (451,000; March 25). P!nk's album has the biggest week by a woman since Beyoncé's Lemonade arrived at No. 1 with 652,000 units (May 14, 2016).

Further, Beautiful Trauma has the largest sales week among all albums since Drake's Views debuted with 852,000 copies sold (May 21, 2016).

Of Beautiful Trauma's overall unit start, 10,000 were in TEA units, while 13,000 were in SEA units. The set was overwhelmingly powered by traditional album sales: 384,000. Of that sum, 101,000 were digital albums, while 283,000 were physical CDs. (It sold another 1,000 on vinyl LP.)

The album's sales launch is the biggest sales week for an album in 2017, and the largest for any album since Drake's Views debuted at No. 1 with 852,000 copies sold (chart dated May 21, 2016).
Congrats P!nk!